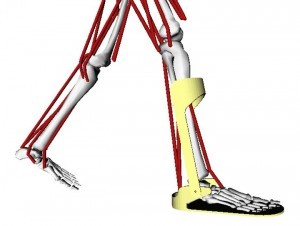 Orthoses are commonly prescribed for individuals with cerebral palsy, stroke, spinal cord injury, and many other disorders to help improve movement and quality of life. However, fabricating and fitting the optimal orthoses for each individual remains challenging. Due to limitations in comfort, aesthetics, and function, many individuals abandon use of their orthoses.
In collaboration with UW's Division of Prosthetics & Orthotics we are using novel rapid prototyping techniques, ultrasound imaging, and musculoskeletal simulation to design new orthoses and evaluate the underlying mechanisms by which orthoses can improve movement. By evaluating changes in muscle dynamics and function with different types of orthoses we aim to optimize the design of orthoses to individuals' movement patterns. These analyses will enable clinicians to understand the impact of orthoses and lead to the creation of novel designs.
---
Funding
This material is based upon work supported by the National Science Foundation under Grant Number CBET 1452646. Any opinions, findings, and conclusions or recommendations expressed in this material are those of the author(s) and do not necessarily reflect the views of the National Science Foundation.
---
Recent News
---
Funding
NSF CAREER Award: The Ultimate Machine – Modeling neuromuscular control and musculoskeletal dynamic to improve human ability