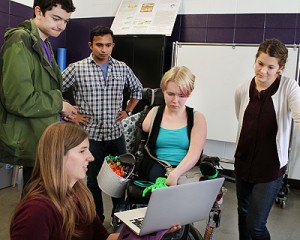 Launched in September 2014, AccessEngineering works to increase the participation of persons with disabilities in engineering education and workforce in order to both increase and diversify the engineering workforce. This is achieved through engaging faculty and students nationwide in efforts to make engineering content accessible to all students, including students with disabilities.
AccessEngineering has two primary objectives:
Promote and support individuals with disabilities in pursuing careers in engineering
Integrate universal design and accessibility into the engineering curriculum
AccessEngineering has a strong community of partners at other universities around the U.S. Each spring we hosts a 2.5 day Capacity Building Institute involving students with disabilities, faculty, staff, and other community members to build best practices, develop resources, and discuss issues that need to be addressed to increase accessibility and improve engineering education.
---
Recent News
---
Funding
National Science Foundation #EEC-1444961