Jessica Zistatsis has successfully defended her Master's Thesis here at the University of Washington, in Dr. Steele's Ability & Innovation Lab.
To complete her Master's in full, Jessica will be submitting and disseminating her thesis, A Passive Pediatric Exoskeleton to Improve the Walking Ability of Children with Neuromuscular Disorders.
To begin watching Jessica's defense, you may view Part 1 on YouTube HERE, or directly below: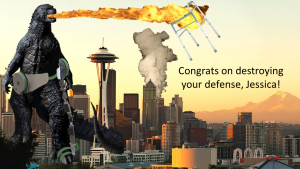 Our lab could not be more proud! To help celebrate her successful defense, the lab drafted a flyer depicting an empowered Godzilla wearing PlayGait, Jessica's pediatric exoskeleton. Here's hoping future children will use their newfound superpowers for good, unlike our friend in this picture!