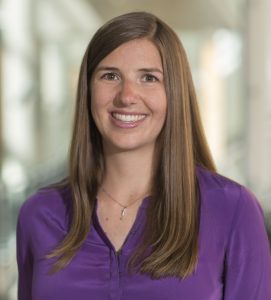 Dr. Kat M. Steele is an assistant professor in the Department of Mechanical Engineering at the University of Washington. Her research focuses upon using novel computational and experimental tools to understand human movement and improve treatment and quality of life individuals with cerebral palsy, stroke, and other neurological disorders.
Her research group strives to connect engineering and medicine to create solutions that can advance our understanding of human ability, but also translate research results to the clinic and daily life. She has previously worked as an engineer in multiple hospitals including the Cleveland Clinic, The Children's Hospital of Colorado, and Lucille Packard Children's Hospital.
She also co-directs AccessEngineering, an NSF-supported program to encourage individuals with disabilities to pursue careers in engineering and integrate topics on universal design and accessibility into the engineering curriculum.
She has been awarded an NIH K12 Career Development Award in Rehabilitation Engineering, NSF CAREER Early Faculty Development Award, and the American Society of Biomechanics Young Scientist Award.
---
Education
PhD, Mechanical Engineering – Stanford University
MS, Mechanical Engineering – Stanford University
BS, Engineering with a Mechanical Specialty (Minors in Bioengineering and Public Affairs) – Colorado School of Mines
Experience
Assistant Professor, Mechanical Engineering – University of Washington (2013 – present)
Acting Assistant Professor, Mechanical Engineering – University of Washington (2012 – 2013)
Research Associate, Sensory Motor Performance Program – Rehabilitation Institute of Chicago (2012 – 2013)
Biomechanical Engineer, Gait & Movement Analysis Laboratory – Lucille Packard Children's Hospital (2009 – 2012)
PhD Candidate, Neuromuscular Biomechanics Laboratory – Stanford University (2007 – 2012)
Bioengineer, Center for Gait & Motion Analysis – The Children's Hospital of Colorado (2006 – 2007)
Research Assistant, Lerner Research Institute – Cleveland Clinic (Summer 2006)
Awards & Recognitions
Colorado School of Mines Young Alumni Award 2017
American Society of Biomechanics Young Scientist Award 2016
University of Washington College of Engineering Junior Faculty Award 2016
NSF Faculty Early Career Development Award, 2015
Best Paper & Best Poster (mentor), Gait & Clinical Movement Analysis Society, 2015
Finalist David Winter Young Investigator Award, 2015
Outstanding Presentation, 2014, Neural Engineering Track, Biomedical Engineering Society
BTS Congress Prize, 2014, Clinical Movement Analysis World Conference
UW Rogel Faculty Support Award, 2014
OpenSim Fellow, 2014, National Center for Simulation in Rehabilitation Research
3M Non-Tenured Faculty Award, 2014, 3M Company
Rehabilitation Engineering Career Development Award, 2013, National Institutes of Health
Baskin Award for Excellence in Research 3rd Place, 2013, Rehabilitation Institute of Chicago
Aspen Ideas Festival Nominee, 2012, Stanford University
Kevin Granata Young Investigator Award, 2012, Gait & Clinical Movement Analysis Society
Outstanding Student Podium Presentation, 2011, Biocomputation at Stanford
Student Travel Fellowship, 2011, International Society of Biomechanics
Outstanding Student Poster Presentation, 2011, Biomechanics at Stanford
Student Travel Award, 2010, 2011, 2012, Gait & Clinical Movement Analysis Society
Graduate Research Fellowship, 2008, National Science Foundation
National Nagel Fellow, 2007, Tau Beta Pi
National Dodson Scholar, 2006, Tau Beta Pi
Curriculum Vitae PDF
---